"Bailey"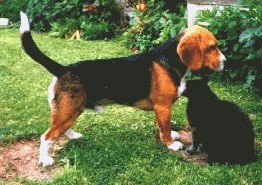 Harken Little Drummer
Pack Hound First Class
02/10/87 - 10/08/02
Bred by G Hartley

When we picked up a little beagle from the Invercargill Airport in December 1987 little did we realise what it would lead us on to. Bought as a pet, Bailey quickly established himself as an essential part of our lives. We initially undertook obedience with him but he had an avid dislike of retrieving and we were unable to proceed further with him. Persuaded by our local hydatids officer, we took Bailey to our first ribbon parade where he came Reserve on Parade and from then on we were hooked on showing. Bailey's show career was like his obedience one - brief but he will be always special for the things he brought in to our lives and for what he introduced us to. Sadly we only recently had to make that difficult decision and Bailey died in Bill's arms on a sunny Saturday morning recently. It seems we can still hear him and sometimes it like he just there - just past your point of vision. Back in 1987 he was the most beautiful beagle (actually the only one) we had ever seen and that memory will never tarnish and his place in our hearts will always be. Bailey was a 16" standard tricolour beagle and in his heyday had the biggest and blackest saddle we have ever seen on a beagle. Not the best of pack hounds, Bailey enjoyed the times out with the Christchurch beagle pack, in his latter years he was usually kept on a lead due to his failing sight and hearing.